For many people, their wedding day is one of the most important days in their life.
And that's why you want to do everything you can to make sure that it's as special as it can be.
So, while you could just host the wedding somewhere close by, the prospect of organizing a memorable wedding at an exotic location is definitely tantalizing.
But also, on the other hand – all of the planning and the chores involved can be quite daunting.
Don't worry, though – there's a way to avoid stress and make sure that your out-of-town wedding goes without a hitch.
We've got all the tips for stress-free long-distance wedding planning right here, so read on, and enjoy!
1. Hiring a local wedding planner
In most cases, when you start long-distance wedding planning, you know almost nothing about the locale in question.
Sure, you know some basic stuff, but when you want to plan a wedding somewhere, you need to be familiar with the local logistics.
What if you need some moving or art handling assistance, for your perfectly themed wedding?
At a different place than your hometown, that's something you probably won't be too familiar with.
But don't worry – there are ways to make sure nothing goes wrong.
And among these, the best one we can think of is simply hiring a wedding planner.
But bear in mind, you don't just need any kind of wedding planner.
You need a local professional in your area of choice for the wedding. Why?
Well, it's quite simple; someone who's used to organizing events and weddings in the area will already be comfortable with the logistics of local event planning.
They'll be able to find you product and service providers somewhere close by without any difficulties.
Plus, those will be people and companies your local wedding planner knows, seeing as they're from the same industry.
So, you can be sure of their quality!
As your big day gets closer and closer, you'll be all the more grateful that you decided to hire a wedding planner, trust us on that.
This will be your point person on all wedding-related tasks, even once the planning is done and the execution is what remains.
Relegating some of these chores will free up your time by quite a lot, plus, you'll have a lot less anxiety and stress regarding the wedding.
2. Don't choose an amateur
When we mentioned that long-distance wedding planning requires the help of a professional wedding organizer, we definitely meant to put the emphasis on 'professional'.
While planning a wedding, many people make the mistake of just choosing an enthusiastic family member to help them out.
And no matter how much you love them, or how good they are at organizing things, we still urge you to think twice.
In most cases, choosing a professional event planner will turn out to be a better idea.
And the fact that your cousin lives near the locale of the wedding is not enough to tip the scales in their favour.
Sure, you can accept their input; but the major beats of the event should still be set by you and a true pro.
Though, there's no need to turn anyone away if they truly want to help.
You could always just make a compromise, and allow your family member to just tag along.
They can give a second opinion to the professional wedding planner, and perhaps point out some things the both of you would miss.
But in case you don't have someone who desperately wants to help – we recommend just going with a professional.
3. Make all the decisions on time
Let's be realistic here – long-distance wedding planning can be one of the most hectic processes you can go through.
To be even more frank, that's something that's true even if you're planning a wedding a few blocks down the street, let alone in a distant area. Why?
Well, for one – you've got to utilize every single mental skill you have. On the one hand, if you want to have a wedding all attendees will remember, you'll need a memorable theme and visual style.
Which means that you'll have to be as creative as you've ever been.
But on the other hand, you'll also need every single piece of organizational skills you can muster.
Once you've got all of the ideas set in stone, you'll need to put them in motion and execute them perfectly.
At the same time, you'll have to be both analytical and creative, which is never easy.
But still, if you start planning on time, managing everything is definitely possible.
4. Finding ideas
Obviously, while you need to be original – you also need to find the right way to implement your ideas online.
Once you start browsing, though – make sure not to get too caught up in vendor reviews.
For vendors in a smaller town, you'll usually find biased reviews from the owners' family and friends.
That's another reason why you need a professional local wedding planner; you need a way of getting an objective opinion.
Naturally, there are many online bridal magazines you can consult as well.
But if you're choosing a location that's not too popular in order to be fresh and original, you may have difficulties finding all the information online.
Also, you can't do an online search for wedding ideas without running into Pinterest after a few minutes at most.
This is a great place to find all kinds of visual cues and ideas, but be warned – with such a plethora of available choices, it's quite easy to get lost in it all.
And then you won't be able to make a decision. How do you avoid that?
If you ask us, we recommend settling on a specific theme before you peruse Pinterest and similar sites.
That way, you'll only need to search for details within a specific niche; there will be a lot less second-guessing.
5. Check everything out in person
As we've mentioned above, having professionals who are familiar with the locale is important, especially for long-distance wedding planning.
But while the planning phases can be done even from a distance; don't make the mistake of delegating everything to a wedding planner who's there.
What we mean by that is – at the end of the day, you'll still need to check out everything yourself.
Seeing pictures of the venue online and speaking with the staff is simply not enough, even in this day and age.
Not only is this your special day, but it's also quite an expensive undertaking. Before you finalize anything, you want to be certain that it'll all go according to plan.
So, take the time out of your busy schedule to visit the wedding locale, even if its somewhere far away. Trust us, this is an absolute necessity when it comes to wedding planning.
If you're hiring local catering, as you probably are – organize a quick tasting when you arrive.
Before signing any contracts, meet all related personnel yourself, and go over all the details once more.
Believe us, this kind of personal quality control is what makes or brakes any event; especially a personal one like a wedding.
6. Deal with accommodation early on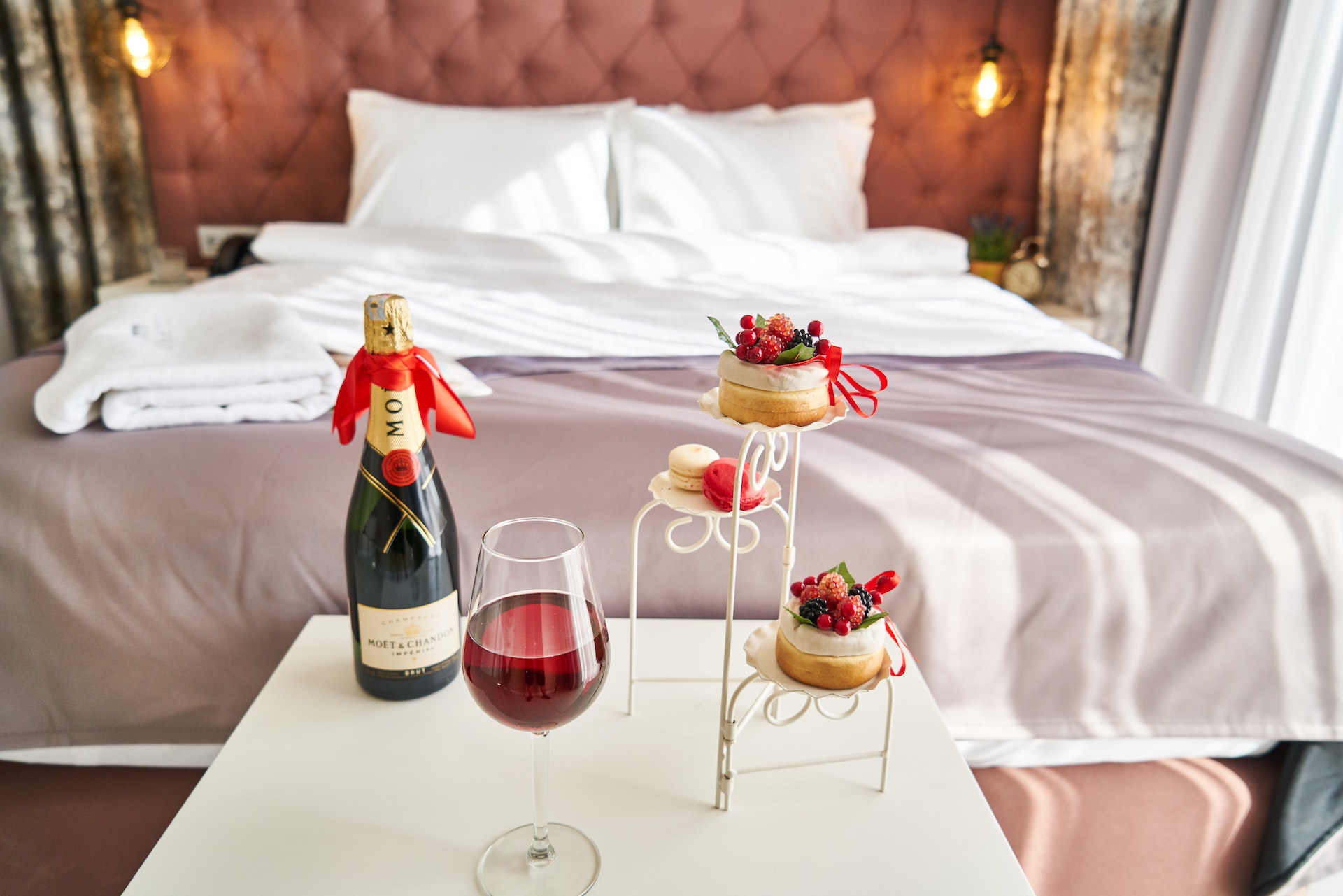 One of the biggest chores regarding long-distance wedding planning is accommodation.
Obviously, you'll need to think about temporary housing for all of your guests early on, so that you've got no issues once they arrive.
This is actually one of the first things you need to talk to your wedding planner about.
They've probably got some suggestions on accommodation in the area.
Also, you'll need to arrange for transportation for the guests who won't be taking care of that on their own.
This brings you to another hurdle; when you're planning a wedding at a distant venue, making changes to your guest list is more difficult. Why?
Because you're not only adding or removing chairs at a table in the venue.
You're dealing with accommodation and transport as well.
This is something you need to realize right away; a long-distance wedding means that your guest list has to be airtight.
And also, you need to finalize it earlier than you would if you were planning a wedding nearby.
However, if you operate with this realization right from the start, you should be able to adapt to that easily.
Just make sure your guests realize that any cancellations will have to be noted early on – and everything will be fine!