More than 150 countries' educational systems have been affected by the COVID-19 epidemic, which has affected 1.6 billion youngsters. As a result, remote learning was partially adopted by many countries. Early on in COVID-19, the focus of the educational response was on creating remote learning methods for rescue missions. These tried to reach every student but occasionally were unsuccessful. The pandemic has affected educational approaches as well.
Educational systems have been one of the worst victims of the current COVID-19 pandemic. The biggest widespread disruption of schooling in modern times, according to the UNICEF-ITU estimate, affected 1.6 billion children globally. Policymakers from all over the world have demanded a switch to remote learning as a solution to the problem. However, this has led to an uneven landscape because so many people lack Internet access.
India has historically struggled with the delivery of education as a result of access challenges. This has gotten worse due to the connectivity. Despite having close to 50% coverage, only 15% of students between the ages of 5 and 25 have access to the Internet. With more institutions offering online courses and a multitude of new tools to improve the digital model and make it a viable alternative to a traditional classroom, there is hope for change. The delivery of education could change, becoming much more individualized, economical, and shock-resistant with the help of mobile internet-enabled devices. Both students and teachers will benefit from this confluence. Schools may modify their physical facilities to reflect this new reality, and academic institutions may revise their curricula and assessment methods. Technology is altering our joint objective of providing high-quality education to everyone. Access to technology and the Internet is now a necessity, not a luxury. The shift to remote learning has expanded not only the possibilities for instruction and assessment but has also encouraged self-learning.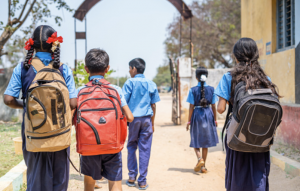 COVID-19 has revealed a number of pre-existing patterns and trends. On the one hand, we've seen a lot of our shortcomings and weaknesses, such the as worsening of inequality, the risks of privatizing education, and how unprepared we were for a substantial move to online and distance learning. On the other side, a number of positive characteristics of our communities have also become more and more apparent. We see cooperation and forceful, uncompromising response to issues in many civilizations. The public good is currently receiving more attention. We also witness the inventiveness, dedication, and imagination of the many instructors, families, and children who collaborate to produce exceptional learning experiences.
COVID-19 has brought dangerous times for public education, with promises of discord and unraveling as we run the risk of losing instructors and students who may not show up for classrooms once they resume. When learning moves from the classroom to the home, it is somewhat privatized. We should be alarmed by suggestions that the current crises and temporary fixes be transformed into long-lasting reforms. However, we must recognize that many communities and parents are starting to value the work and professionalism of teachers. The varied roles that schools play in ensuring academic learning, as well as the health and nutrition of children and youth, are becoming more and more well-known.
Modern learning through digital platforms
The improvement of Educational systems must prioritize human contact and wellbeing. Technology is a potent tool, not a panacea but a source of innovation and enhanced potential. Digital technology, in particular, makes it easier to communicate, collaborate, and learn from a distance. However, we should be more worried than ever that a shift to remote online learning could worsen inequality, not only in the Global South but even in the places with the greatest resource abundance. We must ensure that informational autonomy, freedom of expression, privacy, and abusive surveillance are not jeopardized by digitization. It is a fallacy that everyone will receive their education online in the future.
In order to protect the right to education under the exceptional circumstances brought on by the pandemic and to foster the levels of trust required for international collaboration in mobilizing funding to sustain the universal right to education, we implore all parties involved in education to ensure that educational resources are only used to further students' interests and abilities. It's critical to keep a close eye out for corruption and prevent educational resources from being hijacked and used to further individual agendas.
Importance of education that has been learned during a covid-19 pandemic
The circumstance of the covid-19 pandemic served as a reminder of the significance of public education to communities, societies, and people's individual lives. We are aware of the importance of education in enabling honorable and satisfying lives as well as its role in combating inequality. As we embrace this incredible potential to transform the world and as we reorganize the design of our educational institutions and learning environments, we will need to think about who we want to become. Even though it may have been unexpected, we have come to a place where it is imperative that we all re-evaluate the purposes of education and the organization of learning.

Key suggestions for navigating the covid-19 crisis
The need for teacher collaboration and the importance of the teaching profession

An emphasis on the rights and participation of students, youth, and children

Protecting the school's social space in the Educational systems transformation

A curriculum with scientific literacy and a strong purpose
Let us discuss in detail:
The need for teacher collaboration and the importance of the teaching profession
Many cultures have begun to acknowledge the importance of a set of workers who haven't always been treated with enough respect during this crisis. Health care professionals have earned their reputation as first responders who risk their lives for the sake of everyone. Increased awareness of the "vital" nature and relevance of the typically underpaid food, security, and delivery workers has resulted from this. This has frequently been accompanied by respect for the job of teachers, particularly for their commitment and competence. 
First of all, a lot of parents who are now obliged to supervise and direct their children's learning at home have a better awareness of how difficult teachers' jobs are. Second, teachers have gone above and beyond what was required of them, much as key personnel in other fields. They have been kind to their students and gone above and beyond to meet their needs, elevating the value that parents and communities have on their job. All of this highlights how important a solid educational foundation that promotes cooperation and trust is. The frontline job of teachers will stand out even more as classes resume and teachers must safeguard their own health as well as the health of their students as they implement new teaching methods. 
The way that educators responded to the COVID-19 scenario in education has demonstrated their ability to draw on their professional knowledge and work together with resourcefulness and ingenuity that is unattainable by top-down directives from a governmental entity. The education sector, which receives undeserved criticism frequently for being too conservative, has really shown over the past few months that it is one of the most resilient and adaptable of all social institutions. This is an important lesson to learn from the crisis, and it should inspire us to give teachers more freedom and discretion. Since teachers are so important in shaping the course of education, they should be given more recognition and praise.
An emphasis on the rights and participation of students, youth, and children
In order to protect adults and older generations, it is frequently advised that children and young people limit their freedoms and discontinue their study in COVID-19 replies. However, it's crucial to keep in mind that children and teenagers have the right to participate in decisions that have an impact on them, particularly those that have an impact on their future. We frequently talk about the threats to human rights that the current pandemic poses, and for good cause. It is essential to draw attention to the risks it poses to the interests of the youngest, nevertheless. On a global scale, the unprecedented COVID-19 measures have upset a large number of individuals deeply. Particularly, the mental health and wellness of children and young people have come under considerable danger, maybe in ways that will have long-term implications.
We need to reshape schools and the support we provide them so that students can continue their education in classrooms and return to school activities as soon as possible, but we also need to think in the medium term so that this extraordinary situation that young people have experienced becomes an opportunity for learning how to meet the challenges of our time, an opportunity to restore trust in institutions, and an opportunity to implement intergenerational learning. 
Protecting the school's social space in the educational transformation
The Educational systems are today undergoing a dramatic change. Many changes that had been occurring gradually increased as a result of the pandemic. Increased knowledge and respect of schools can serve as the foundation for a new public education revival that alters the idea of schooling. 
Does this imply that there is no longer a need for a physical school? not at all. The physical area designated by the school as the main location of learning continues to be important at all levels of formal education. The COVID-19 problem has served as a timely reminder of the need of using schools as focal points for social assistance, especially when it comes to serving nutritious meals. Since they function as community centers, schools may be an important source of assistance for fostering independence and environmentally friendly ties with nature. It is essential that social ties exist within the context of schooling. Human interactions, exchange, and communication are crucial to education and learning. Others are necessary to our own personal enlightenment. Remote learning and distance education cannot replace schools as places of social habitation.
Schools also give kids and teenagers safe places to try new things, take risks, and set objectives. They are crucial places for helping us become the people we want to be. Importantly, schools are also places where we may interact with and learn from people who are different from us, allowing us to better understand the variety of human experiences seen throughout the world. The school environment is still essential, but it needs to be improved and enlarged to give students a much wider space to learn in. We have seen how much of the professional and financial growth of this pandemic depends on the school, its timetable, and its calendars. While schools are shuttered, society as a whole goes into lockdown.
A curriculum with scientific literacy and a strong purpose
What is learning for? is a question posed by COVID-19 that encourages us to re-examine the abilities and competencies that we genuinely anticipate the educational systems and learning to develop? The wide humanistic dimension of education, which is essential for the formation of peace, democracy, and intercultural understanding, is at serious risk of being constrained by the curriculum-based learning that we see taking place when schools close. The danger is that the focus on technological skills, the modularity of the curriculum, and the quantification of progress and benchmarks could eclipse these elements, which are essential to the digital educational culture. The current crisis may quickly lead us down this uneasy path, where technology function must meet educational form. These trade-offs are already widely used.
Conclusion
The International Commission on the Futures of Education, which started working in 2019, claims that the world is getting increasingly complicated, unpredictable, and unstable. Despite highlighting the disconcerting difficulties brought on by this complexity, COVID-19 also showed how it may generate strong dynamism and a wide range of potential outcomes. The enormous difficulties that come with uncertainty have recently been made very clear. COVID-19, however, has reminded humanity that uncertainty also possesses the tremendous potential and refutes determinism. Although COVID-19 has shown us the terrible dangers and flaws of our frailty, it has also served as a reminder that fragility also encourages awareness, sensitivity to our interdependencies, and the possibility of hope.
Educational systems will change significantly after this epidemic. How, though? The Commission exhorts everyone to participate in determining the course of education. There are no acceptable pre-made solutions, technological or otherwise, outside of our efforts and actions—and outside of the decisions, we make collectively through inclusive debate and decision-making.
Even though not everyone believes that remote learning can completely replace traditional classroom instruction, a hybrid approach may gain more traction in the future. The blended learning strategy redefines the conventional educational paradigm and benefits the four major equations of teacher-student, student-student, parent-student, and parent-teacher relationships. All four equations are rewritten as a new cooperative model is constructed. The atmosphere following COVID 19 presents us with fresh challenges as we navigate it. The transition period will need to be managed by integrating digital and conventional teaching and learning techniques. Future integrated learning will typically use digital and physical systems. Educational systems must embrace this since it allows for flexible learning and teaching in the current paradigm we are heading.