Your wedding invitation is the first impression your guest receive as regards your special day. And since your guests are special, your invitation has to express how their presence at your wedding will make the event successful. Among many other sacrifices, they will abandon their schedule and prioritize your wedding, to have a first-hand experience of your love and commitment towards your partner.
However, sending out your invite can sometimes be challenging. From selecting the right colors, the wordings, and then addressing your guests, it is indeed a lot of work to take in. But with the proper techniques and knowledge, designing a wedding invitation can be less taxing.
Below are useful guides for creating and sending out the best wedding invitations.
1. Create a theme for your wedding
The first thing to consider when preparing your wedding invitation is to have a theme for your wedding. This gives you an idea of how your invitations will appear to your guest. The invitation will have to express your wedding style, giving your guests insight into what to expect from your wedding. Will it be a classic and elegant, casual and relaxed, or glam and modern event? Your wedding theme provides a background as to how your card can appear. 
2. Select your colors
The right colors for your wedding invitation largely depend on the theme and style of your wedding. There are so many ways to combine colors. A simple colored envelop for the RSVP can have a massive impact on the overall look. 
Generally, you should keep a few things in mind when choosing your invitation colors. You may want to consider the design, the printing method, the color of any accessory you plan to add, and the type of paper you're printing on. Also, think about the legibility and visibility of the color. You can't use light colors for small text; neither can you use light colors on a light-colored paper. If your wedding will be a very formal one, you may want to stick to darker, more traditional colors, but a modern wedding invitation might look better in bold, bright colors. 
Template Monkey's Classic Floral Wedding Invitation is one good example of a finely selected color theme.
3. Get creative with the shape and size
It's essential to pick the right shape and size of an invitation for your wedding well before they make it to the mailbox. Different sized and shaped cards change the overall look and feel of your wedding invitation. Although the traditional size and shape for a wedding invitation is a 4.5-inch by 6.25-inch rectangular card, you can decide to explore more modern options such as flat, square, gatefold, and circular invitations. Choosing a different size and shape may differ in postage cost.
4. Use legible fonts
Before designing or choosing your wedding invitations, one of the critical elements to consider is your fonts. Whether you are creating a unique or custom-made wedding invitation design or hiring someone to help with the creative process, you will want to consider a few things when you pick your fonts. Your fonts should add to your theme. Make sure they are legible, so recipients can easily read the content of your invite. The font you choose sets the tone for what your big day will look and feel like for your guests. 
5. Carefully select the right words
Your wedding invitation needs to communicate vital details of your day and give a sense of your theme and relationship. While this may seem less complicated, it is quite easy to miss out on some vital piece of information on your wedding invites. You do not want to embarrass your guests because you forgot to put down a dress code or your reception venue or even forgot to address them adequately.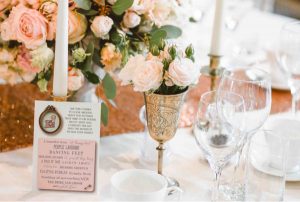 6. Write important details only
Be careful not to crowd your wedding invitation with too many details. List only vital information the guests will find most helpful. Trying to fill the card with lots of details will make it look difficult to read. Avoid details such as giving directions to your wedding venue, or details about post-wedding activities, and gift details. 
Your wedding invitation should only have information such as who is hosting the wedding, names of the couple, venue of the wedding and reception, date and time of the ceremony. A perfect example would be this minimalist wedding invitation.
For other details regarding the wedding, you can refer your guests to your wedding website, or you can place a note in a separate enclosure. 
7. Send the invitations early
When planning a wedding, timing is an important consideration. Once you've set a date for your wedding, it is natural to begin to consider when is the right time to send out invitations. The truth is, there's barely any reason to wait too long. You don't want to have your guests saying they can't attend due to prior commitments. An ideal way to making sure your invites are neither too early nor too late is sending Save the Date cards out first. Save the dates are sent before the wedding invitations. They are sent between six to twelve months before the event. Meanwhile, sending the invitation cards for your wedding should ideally be between eight to twelve weeks before the date. 
8. Specify your dates
Include a deadline for receiving your RSVP, which should be on the bottom right corner of your invitation or a separate enclosure. You will want to ensure the deadline is between three to four weeks after your guests have received their invitations. You will need this for your final headcount. It will also help you make all the necessary final arrangements on time with your caterer, seating chart, décor agency, and other vendors. 
9. Make cost-effective choices
The price for printing wedding invitations can change drastically based on several different factors like the number of invited guests, wedding theme or design, and material sourcing like ink, typeface, printing process, paper, and quantity are some of the things that add up to give you a final price tag. 
If you decide to go for top-quality papers, color ink, custom design, and printing styles such as letterpress and engraving, the cost of producing your invitation cards will increase. Therefore, it is important to know your options ahead of time, so you can choose which is more important and set your priorities. Also, if you'd rather have a calligrapher write guests' names of the cards, you should understand you'll be incurring more cost than if the names were typed during the design stages. In the end, your choices should be pocket-friendly and be within your estimated expenses. 
10. Address your envelopes
The wedding invitation envelopes should not be an afterthought. You should put just as much time and effort into addressing your envelopes as you put into personalizing and assembling your invitations. You can choose to hire a calligrapher to address your envelopes, to give it an elegant first impression. Still, if you can't afford a calligrapher, you can choose to address them yourself if you are confident you have impeccable handwriting. You may want to make a few attempts on some samples to test your handwriting before attempting to address your envelopes. That way, you will have your envelope and cards looking befitting for the event.
On the other hand, you can print the address on the envelopes as there are great quite a number of platforms that can help do that online. However, the ideal way to go about addressing your invitation envelopes is the handwritten option. Apart from the fact that addresses are traditionally handwritten, this also makes your guests feel their presence at your wedding is important to you.
When addressing your envelopes, you also need to consider that you don't need to send an invitation to everyone on your guest list. That saves your time, cost, and energy of addressing everyone on your guest list individually. You can count the number of families and couples on your list and send one invitation addressing the entire family or couple. You can cut your order in half by sending one invite to cohabitating couples and even address an entire family with just one address. For example, "The Johnson Family." That should suffice, except they have anyone that is eighteen and above who doesn't live with them anymore. Also, for couples living apart, you can send one invite to the one you are closer to and include both names in the invitation.
11.  Proofread for errors
Before your wedding invitation hits the print house, review your samples, and have the printing officer go over it again on your behalf. You would be doing preventing a lot of setbacks if you went through a sample and carefully spot out errors. Take time to check for wrong locations, misspelled names, and other mistakes that may be made. 
It is often best to give the card to a third party to go through for errors as we can't be the best editors of our work. You will be surprised by the errors you missed out on after going through the card yourself again. Reach out to your grammar savvy friend, or your friend who is an editor, or an acquaintance that majored in English and get them to help you edit the invitations. This way, you can be sure they will carefully access the invitation and make necessary corrections to the errors made.