Writing the perfect wedding congratulations isn't everyone's forte. Perhaps you may want the message to stand out from the crowd, or to be more creative than just the simple 'best wishes'. For those who have purchased a beautiful wedding card and are struggling to find a message to match, we are on hand to help. But how do you write the perfect message for a newly married couple? We have put together a selection of top marriage quotes for newly married couples that you too can use when filling in your wedding card.
Casual Wedding Wishes
When wishing the happy couple congratulations, it's not just about offering a lovingly crafted message, filled with poems and purity.
Depending on the style and tradition of the couple, a simple yet meaningful marriage quote will often be more appreciated and well-received. 
Examples of a simple, yet meaningful wedding wishes:
"Best wishes!"

"We are so pleased for both of you!"

"Wishing you all the love and happiness!"

"Hugs and kisses"

"We are so pleased to celebrate this occasion with you both"
Religious Marriage Quotes
If the marriage ceremony is in keeping with a religious tradition, or the couple themselves are religious, then sticking to the religious theme is a top tip.
When wishing the happy couple your well wishes, consider scripture marriage quotes when wishing them all the best.
By customizing the message depending on their religion and the practices of the couple, you can personalize the message for added value. 
Example of a religious wedding wishes: 
"May _  bless you and your union"

"Sending you prayers for undying love and happiness" 

"May whoever brought you together bless your marriage and help deepen your love"

"May _ grant you all of loves joys and life's blessings" 
Funny Wedding Wishes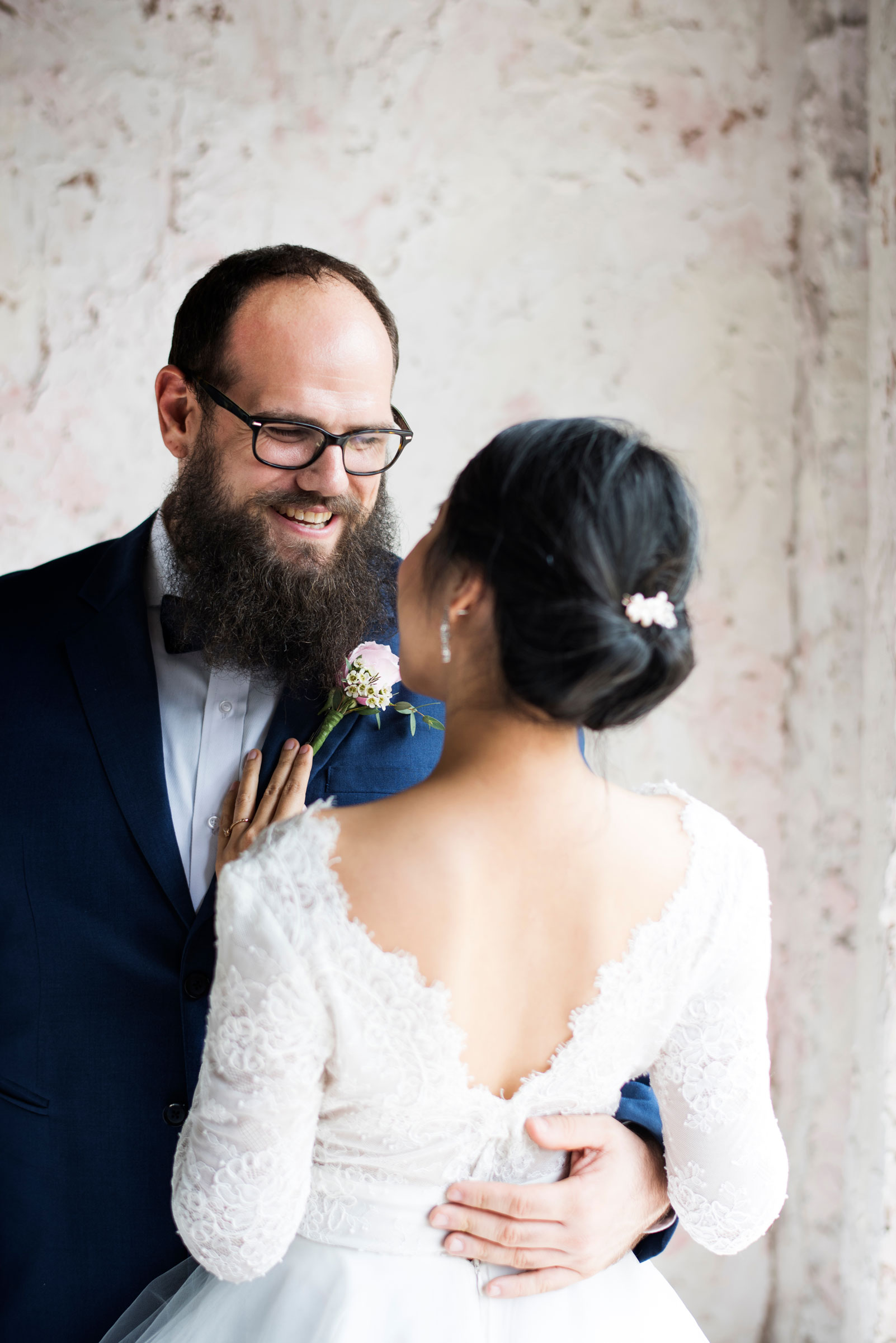 If the couple is a close friend, or you are known to share a little joke or two whenever you catch up, then consider writing humorous marriage quotes in a congratulatory card. 
When writing something witty and fun, practice with a side of caution. Unlike with the spoken word, words can come across with an entirely different meaning when written down, so try to avoid any awkwardness by keeping the jokes simple.
By writing and sharing a simple joke that can be appreciated by all, you can avoid having to explain the meaning behind the joke time and time again. 
Examples of funny marriage quotes:  
"One piece of marriage advice, love, honour and… scrub the toilet!!"

"Thanks for the free booze, happy marriage!"

"Thanks for the party and for inviting us to eat and drink while you get married!"

"As they say, be excellent to each other"

"Getting married is like a drama school. May there be more comedy than melodrama"
Wedding Wishes for a Family Member
Whether it's your younger sibling or a distant cousin getting married, writing for a family member can be hard work.
By wanting to avoid a bland and general message, feel free to write as personal of a message that you seem fit. By writing a message that can convey your joy and relationship with the happy couple, the style of the written message is entirely up to you.
Below are some of our top wedding wishes for a family member that you can use for yourself. 
Examples of wedding wishes for a family member:
"A huge congratulations on your marriage and welcome to our family"

"We're delighted to share this day with you both!"

"What a wonderful addition to the family, welcome in!"

"We couldn't be happier to call you both family"

"Best wishes for a long, happy future together"
Wedding Wishes for a Friend
Before sitting down to write a wedding card for a friend, it would be incredibly beneficial to assess your overall relationship.
By doing so you can determine how cheeky you can be, but also how personal you can make your wedding wishes.
With these key pieces of information up your sleeve, you can have an easier time deciding what to write, whether sharing a memory or creating a personal, inside joke. 
Examples of wedding wishes for a friend: 
"Congratulations and I'm so happy to call you both my friends"

"Remember that night in _? No more nights like that now ayy!"

"The fortune-teller in Vegas was right, you have met the one!"

"May you both have as much laughter as we have over the years"

"Best wishes for a long and happy marriage"
Wedding Wishes for a Parent/Step-parent
The marriage, particularly that of a parent can create a mixture of emotions. Whether excitement, anxiety to fear of the unknown. When writing marriage quotes and wedding well wishes for either your parent or step-parent, feel free to be as honest as you wish. 
If you are unsure about the partnership, keep the message general and traditional, while if happiness and joy are experienced by the union of the married couple, express your feelings through written words. 
The key to writing wedding wishes for both parents and step-parents and that is to keep the message genuine while wishing them a happy, long future together. 
Examples of wedding wishes for parents and step-parents:
"I am so happy you have found someone to share your life with"

"I'm overjoyed to see you happy"

"To the best parent someone could wish for, and their new partner, much happiness to you both"

"So now we get to enjoy_ cooking over Christmas, great!"

"I'll give you the advice you once gave me…"
Wedding Wishes For A Brother Or Sister
The relationship between siblings is unique in every family, each one differing from the other. So, depending on how you act will determine how you can write in the card.
The relationship will allow the card to be as risque as you like. And, for the step-sibling, keep it polite and light-hearted, always wishing well for the future!
Examples of wedding wishes for siblings/step-siblings:
"I've always wanted a brother/sister, and now I have one! Welcome to the family"

"I couldn't be happier, as of today, I have gained a new sibling" 

"It seems like only yesterday we were playing games in the back garden, and now you're married!"

"All the love to the best_ in the world, and their new partner!"

"You have brought my_so much happiness. All my love!"
Wedding Wishes For A Son/Daughter/In Law
It's a big deal for any parent when their son or daughter marries. It's one of the happiest days in the immediate families lives and should be celebrated in a way that shows this too!
Being the mother or father of the bride or groom, there will be a whole host of emotions experienced, from all parties, that can be rather hard to get down onto paper. So make it personal, no one knows these people better than yourselves!
Examples of Wedding Wishes For A Son/Daughter/In-Law:
"We are so happy to bring a new member into the family!"

"Best wishes to my_ and _ as they start their new lives together"

"I remember when you were just a baby (memory)"

"I'm overjoyed you found someone so special to share your life with"

"I'm not losing a_, I'm gaining a _ and I couldn't be happier"
If quotes and cards aren't really your thing, don't be afraid to think outside of the box, be different. Congratulations can be in the form of a gift too. And, if the relationship to the newlyweds is that of a strong one, a personal gift would be a lovely gesture, to celebrate a lifetime of happiness.
The gifts can even be traditional if you wish. Giving the newlyweds a symbol of their companionship or a gift that will grant them the best of luck for the further future. The choice is yours!
Don't avoid using the term 'congratulations'
Once upon a time, saying the term 'congratulations' was a no-no and seen as an insult.
Instead, if guests were wanting to congratulate the newly wedded couple, 'best wishes' will be offered to the bride, while the groom will be the one to receive the congratulations. 
Wrap Up
This belief that congratulations as a marriage quotes, must not be wished to the bride, was once seen due to risk of implying, well done for finally getting married and finding yourself a man. 
However, times have changed. A congratulatory comment to the newly wedded couple, rather than the bride, is a perfect way to celebrate their coming together, and finding each other amidst the businesses of life. 
If wishing someone congratulations makes you feel uncomfortable, or the couple is traditional in design, writing, the term 'best wishes' would be just as lovely. 
There you have it, a selection of witty, funny and charming marriage quotes that you can use no matter the circumstances. 
From the wedding of your child to the wedding of the best friend, for those struggling to find something meaningful, express your sincerest emotions with our top list. 
Is someone getting married in your family soon? Or have you been in this situation before? Let us know in the comments below!